World's first hotel with a RAINFOREST: Dubai's new £230million towers will have a man-made jungle, artificial beach and stunning 'sky pool'
Rosemont Hotel Residences is set to open in 2018, with Hilton Worldwide managing the hotel
Man-made rainforest will be located inside a five-storey podium at the base of two 47-storey towers
Five-star hotel will have 450 guest rooms, fine dining, a VIP lounge, spa, gym, and meeting rooms
Dubai is already famous for the world's tallest building, massive artificial islands and mind-boggling extravagance, but it will soon be home to another spectacular claim to fame.
The world's first hotel with its own rainforest is scheduled to open in the desert city in 2018 – complete with an artificial beach, splash pool and trees that spray mist.
With a reported build cost of £230million, the Rosemont Hotel Residences is the latest example of over-the-top luxury in the emirate, which has fast become a go-to destination for holidaymakers and a major hub for air travel between the West and Asia.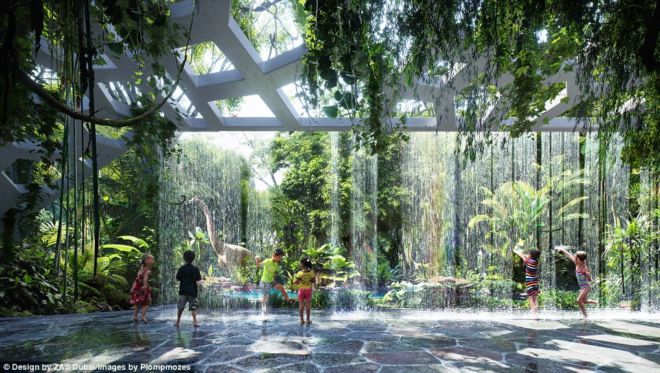 Dubai's Rosemont Hotel Residences will become the world's first hotel with a rainforest when it opens in 2018