11 Healthy Ways to Add Variety to Sandwiches
You don't need to be a gourmet chef to prepare these delicious sandwiches. Add a little variety to an ordinary sandwich with these 11 healthy recipes that contain less than 300 calories each. Bon Appétit!
1) Chicken and Roast Beef Muffulettas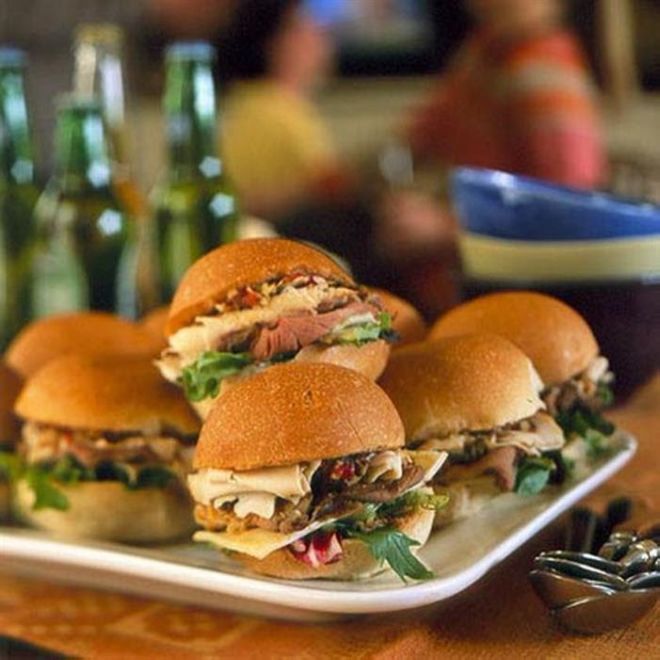 Ingredients:
Olive Salad:
1/2 cup kalamata olives, pitted
1 (7-ounce) bottle roasted red bell peppers, drained and chopped
1 (14-ounce) can artichoke hearts, drained and coarsely chopped
1/4 cup chopped fresh basil
1 garlic clove, minced
2 tablespoons capers, drained
2 tablespoons balsamic vinegar
2 teaspoons olive oil
Muffuletta:
12 (1 1/2-ounce) French bread rolls
6 (1-ounce) slices Swiss cheese
12 (1-ounce) slices roasted breast of chicken
12 (1-ounce) slices deli roast beef
6 cups gourmet salad greens
How to Prepare It:
Olive Salad:
To prepare the olive salad, combine the first 8 ingredients in the food processor bowl.
Process for 30 seconds or until finely chopped, and chill.
Muffuletta:
Cut rolls in half horizontally.
Cut each cheese slice in half diagonally.
Spread about 2 1/2 tablespoons olive mixture onto top half of each roll.
Layer 1/2 cup greens, 1/2 cheese slice, 1 roast beef slice, and 1 chicken slice on each roll bottom, and cover with top of roll.
Wrap each sandwich tightly in plastic wrap. Chill up to 8 hours.
2) Smoked Mozzarella, Spinach, and Pepper Omelet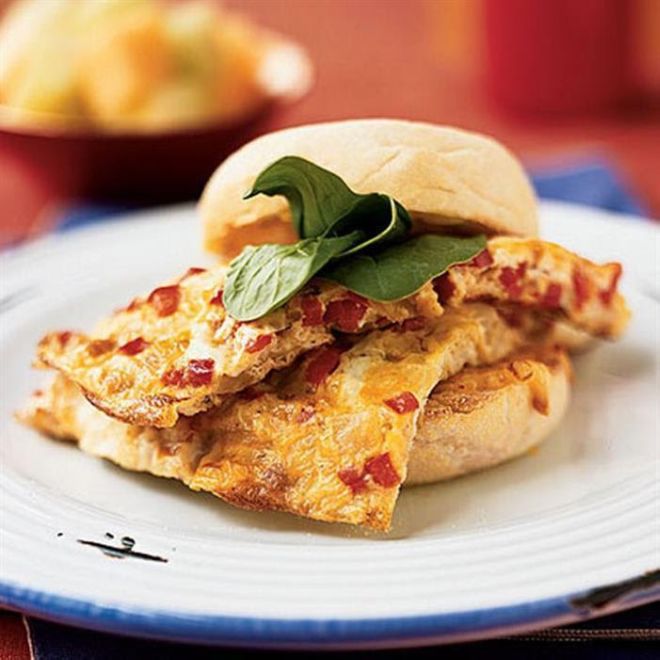 Ingredients:
4 sourdough English muffins, split
6 large egg whites
3 large eggs
2 tablespoons fat-free milk
1/2 cup (2 ounces) shredded smoked mozzarella cheese
1/4 teaspoon salt
1/4 teaspoon freshly ground black pepper
Dash of hot pepper sauce
1 cup finely diced red bell pepper
1 1/2 cups bagged baby spinach leaves
3/4 cup pre-chopped onion
Cooking spray
How to Prepare It:
Preheat broiler.
Combine first 6 ingredients in a large bowl, stirring with a whisk until combined, and then set aside.
Heat a large nonstick skillet over medium-high heat.
Coat pan with cooking spray.
Add bell pepper and onion, and sauté 4 minutes or until tender.
Reduce heat to medium.
Pour egg mixture into pan, and let egg mixture set slightly.
Tilt pan by carefully lifting the edges of omelet with a spatula to allow uncooked portion to flow underneath cooked portion.
Cook 3 minutes.
Wrap handle of pan with foil, and place pan under broiler.
Broil 1 minute or until set and lightly browned.
Arrange muffin halves in a single layer on a baking sheet.
Sprinkle muffin halves evenly with cheese, and broil 1 minute or until cheese begins to brown.
Divide omelet into 4 portions, and place 1 portion on bottom half of each muffin.
Top evenly with spinach leaves, and top with remaining muffin halves.